May 31st, 2009
I said, "Dance for me just one more time, before you hibernate and you come out a crab cake"
So I decided to experiment a little and attempt something I have never tried before: Seafood. Namely, crab.
Pete picked out the crabs, Blue Swimmer, as we couldn't find any mudcrabs… although that's probably a good thing because they're pretty expensive for some gross spiky thing that lives in, well, mud. I don't see the gastronomic attraction to crab, but they're Pete's favourite so I thought I may as well give it a bash. I decided on a Singaporean Chilli Crab recipe I found on a blog somewhere, and adapted it a wee bit.
Due to my extremely deep-seated hatred of seafood, I had to make other stuff as well. The stuff I settled on was French Onion Soup for entree (same as the one I posted before) and Sticky Date Pudding for dessert, after seeing the Masterchef TV show contestants suck at making them. I knew I could do a better job.
Now follow me on the culinary adventure of around 3 hours!
*chopchopchop* I wore swimming goggles to deal with the onion fumes… the soup is easy to start with, chop the onions and caramelise with butter, then pour all the stock and wine in, add a bundle of thyme and a couple of bay leaves and let simmer away.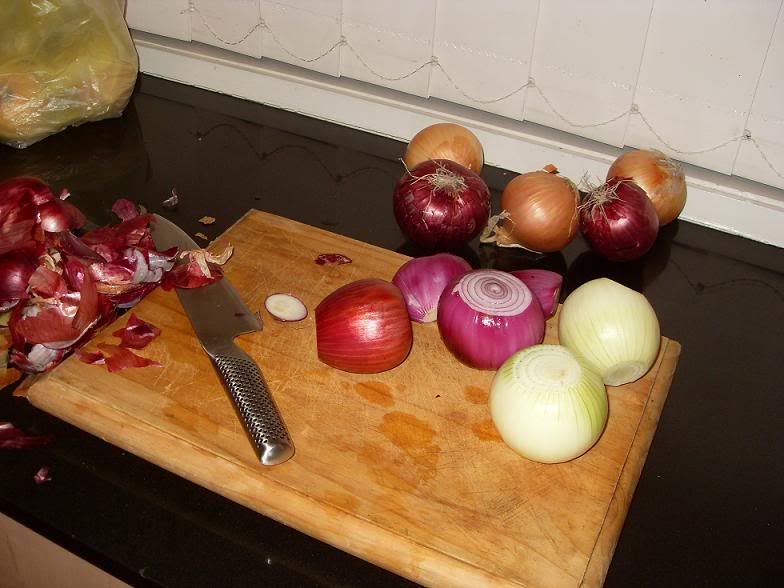 I decided to make the puddings before the crab so I'd just have to warm them up when we wanted dessert, a good idea after the main course. Not sure if I could have been bothered after all that :p
Boiling the dates up and adding bicard soda. Smelled soo good (see the goggles in the background >.>)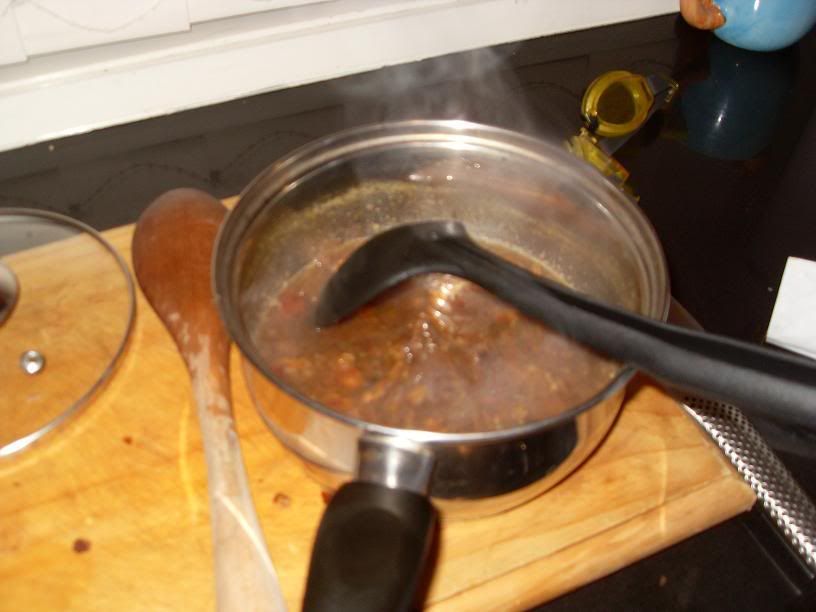 Making the almond praline- boiling sugar down veeery carefully. It looked pretty though.
Cooling the almond praline. It was so easy to make and cool looking, something I'll remember for the annual event where I make desserts… I also made a butterscotch sauce in the meantime, also very easy! Butter, brown sugar, vanilla essence and some water.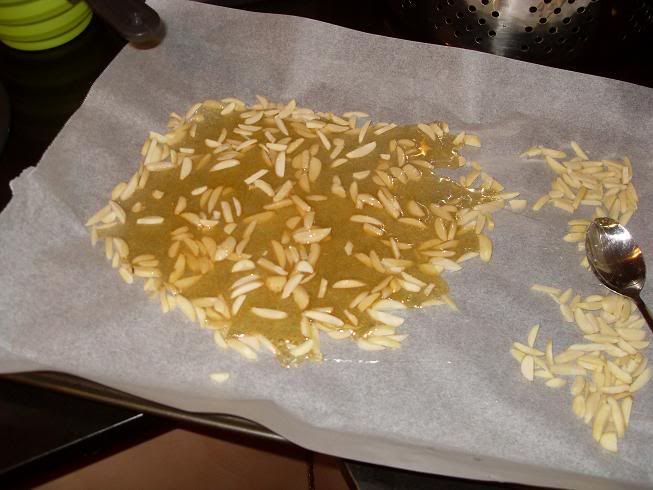 So with the puddings in the oven and the praline cooling, time for the big test.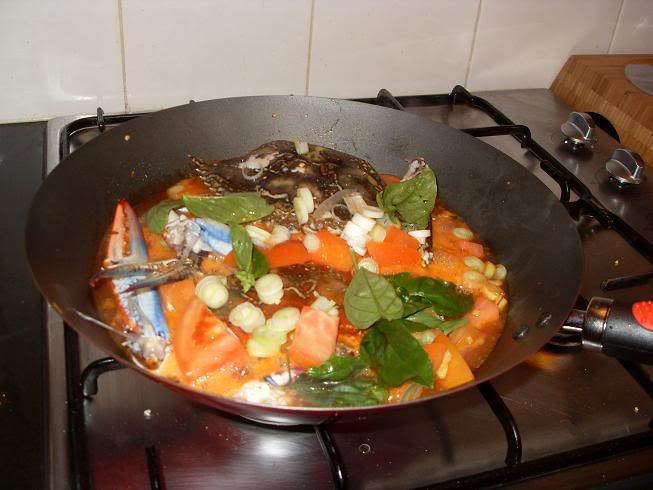 The recipe I found online was very simple, good for me because yeah, I don't cook seafood. Pete cleaned the crabs out (something I refused to do, they stink) and washed them for me, we broke off all the legs and claws as well. You start off frying finely chopped ginger, garlic and chilli (fresh out of the garden) with some olive oil in the wok. Then add the crabs and throw them around the wok quickly. Add the sauce, which was simply tomato sauce, sweet chilli sauce, fish oil, chicken stock, tomato and shallot, and bring to the boil. I also added fresh basil form the garden because I love the taste of basil in spicy dishes. Once it's all boiling, turn it to simmer and put a lid on the wok for 10-15 minutes until the crabs are bright red. Super, super easy.
The final products! In gastronomical order: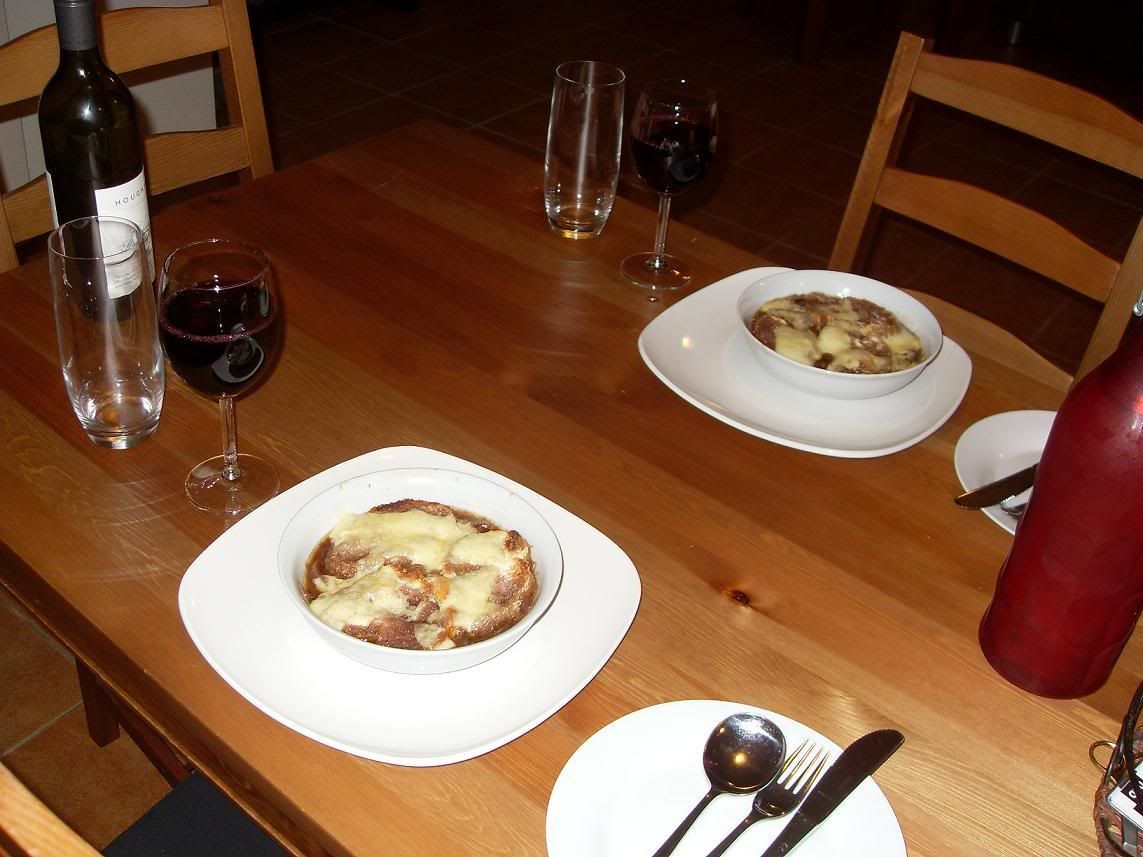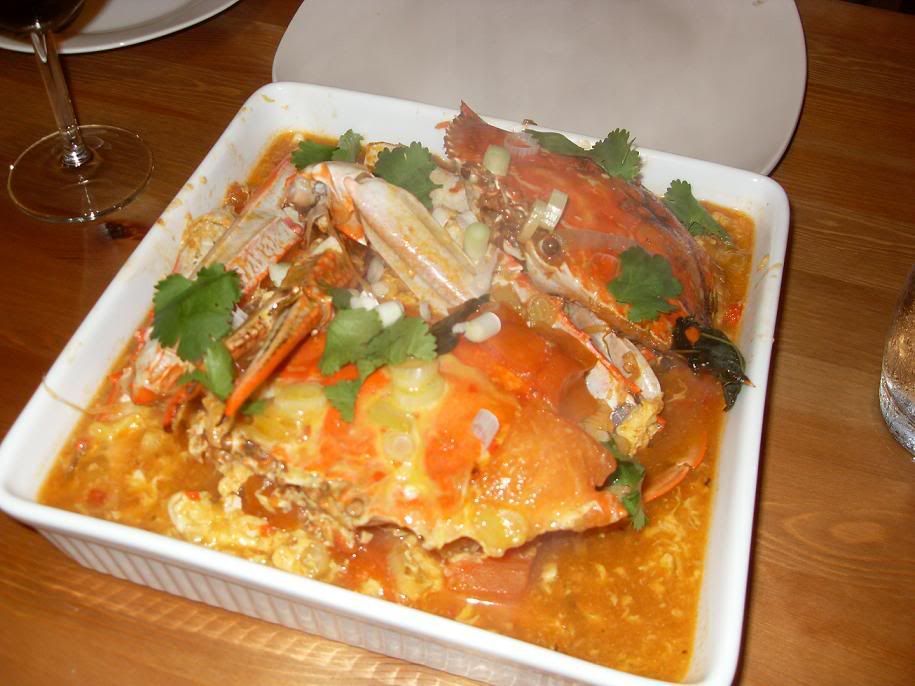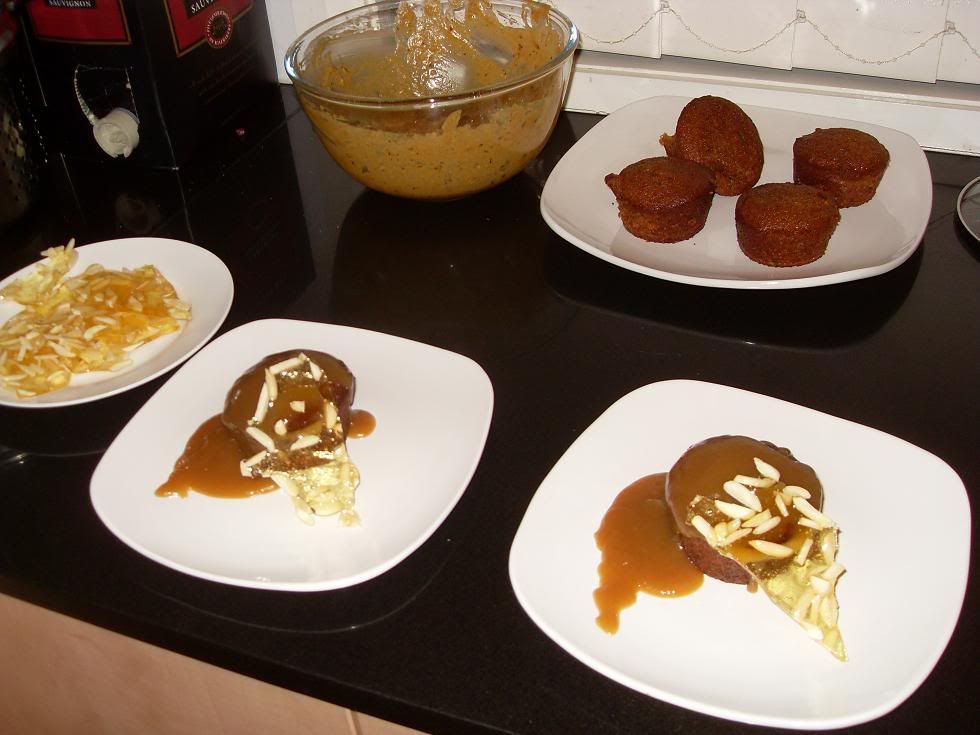 So the French Onion Soup was delicious as always, this time I had a baguette to make the croutons for the top; I can never find Gruyere cheese though, so I used Jarlsberg.
I tasted some of the Singaporean Chilli sauce, it was sweet and spicy and very yummy – a bit too spicy for me, I don't like a whole lot of chilli. I garnished it with coriander, and jsut before taking it out of the wok, you mix 3 beaten eggs through the broth to give it that stringy egg filler. Pete was the judge of that one, he said the sauce was as good as the time we (he) had crabs on Darling Harbour, Blue Swimmer crab isn't as nice or meaty as mud crab, but I expected that. They were cooked nicely though (apparently).
The Sticky Date Pudding was divine, light and fluffly, and the butterscotch sauce was sickeningly good. The almond praline made a nice decoration and a good thing to nibble on after the whole meal.I'm glad I made 6! More for another night.
We had a Houghton Cabernet Merlot Shiraz with entree, and a Mt Ashby Pinot Gris with the crabs and dessert. All in all very successful, although now I'm being hounded by people as to why I haven't made them crabs yet.